A recent article on China Daily cited some findings by the International Business Center (IBC, a US-based non-profit organization) on Chinese business culture and etiquettes. According to IBC, "the general nature of locals is conservative, reserved and disciplined", and there are "specific codes of behavior" to adhere to.
Big Social Functions
Chinese value face and make decisions collectively and over a lengthy period. There is always respect for a host and many Chinese are passionate socialites enjoying functions.
Eating First, and Business Second

"…But in China, people meet for dinner and talk about general topics first before getting down to business."
No Talking About Politics
The IBC reminds foreigners to avoid any ostentatious or overt displays of emotion or affection and to keep social conversations safe. Talking about culture, customs, travel or food are good topics. Talking about politics is not.
Many Speeches
…the continuous volley of speeches, which occurs at many local parties.
…When toasting, the host always speaks first.
Avoid Open embarrassment
…most Chinese will not discuss their feelings when dissatisfied
Relationship Important
In China, "relationships are everything".
Open criticisms of others or admissions of guilt threaten such relationships, so these are avoided.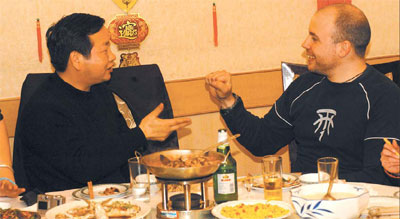 The research spotted some real and visible cultural formalities and practices, and it is indeed helpful for people from other countries to know. But knowing it is one thing, using it is really another. In many cases, not knowing is perhaps better than overuse it. You will need to distinguish between the bad and the good practices before you actually use them, since not all of them you see are regarded as good practices and suitable in all occasions, such as Huaquan. The article on China Daily (surprisingly) showed a picture of a Chinese man teaches his expat friend to play Huaquan (above), but in fact it is not taken as a civilized manner by general public, and is not suitable in formal occasions.
In most cases of Chinese people meeting with foreigners, there are invisible cultural elements quietly taking its functions during such intercultural encounters: Chinese people are always trying to show their respect and hospitality to foreigners and probably through Chinese ways: you will be asked to making speeches, as a way to show respect; you will be forced, as a way of showing hospitality, to take as much as you can, the food, the drinks, and the 'intercultural dishes' as well. As foreigners you will never be regarded as ignorant since you are foreigners. But the fact is that with increasing number of westerners trying to know more about the business etiquettes in China, Chinese business culture has reciprocally started to have its impact on international business practices.
Note: Picture from China Daily